The Hemmings Motor News Great Race is arguably the quintessential vintage car rally. First run in 1983, it was conceived as a time/distance/endurance rally across the country.
Over time it grew to include five divisions - Grand Champion, Expert, Sportsman, Rookie and X-Cup - and is now open to all 1972 and older collectible cars, trucks and motorcycles (yes, a motorcycle competed once).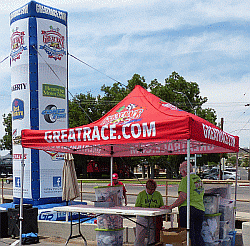 In recent years it has been massaged to a more manageable 2,400-mile, nine-day test of man and machine that has taken entrants down the east coast, along the Mississippi River and around the Great Lakes.
So when it was announced that the 2015 Great Race would return to the west - for the first time in several years - and travel along historic Route 66, it was expected entries would be swiftly submitted. It quickly sold out.
Kingman, Arizona was a lunch stop which was catered by The Garlic Clove Restaurant.
Click here for Kingman Great Race photos