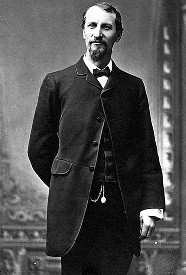 When train passengers arrived in Kingman they looked forward to a break at the Harvey House. Fred Harvey, pictured at left, built a huge chain of restaurants to serve the traveling public.

The origin of the Fred Harvey Company can be traced to the 1875 opening of two railroad eating houses for the Kansas Pacific Railway. These cafés were opened by Fred Harvey, then a freight agent for the Chicago, Burlington and Quincy Railroad.

Fred Harvey had been convinced of the potential profits from providing a high quality food and service at railroad eating houses.